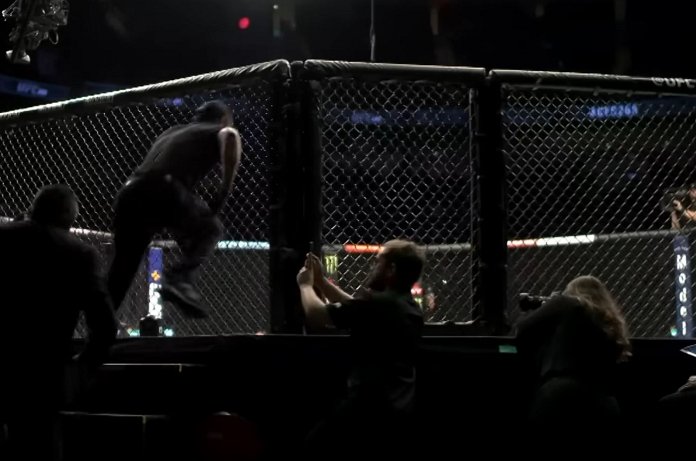 Former featherweight champion A.J. McKee is set to face Sidney Outlaw in his lightweight career at Bellator 301, following his withdrawal from a previously scheduled fight due to a staph infection.
A.J. McKee, the former featherweight champion, is set to continue his career in the lightweight category, facing off against Sidney Outlaw at Bellator 301. His move into the new division has been marked by anticipation and the upcoming bout with Outlaw presents a notable challenge for him. McKee's move to lightweight came after he was compelled to withdraw from a previously scheduled fight, a match-up against Patricky Pitbull in July at Bellator vs. RIZIN 2, due to a severe staph infection.
Bellator announced McKee's upcoming bout with Outlaw on Monday, following an original report by MMA Junkie. The fight will take place on November 17 at Wintrust Arena in Chicago, and it will be broadcast on Showtime. The last time McKee was seen in the Bellator cage was in December at Bellator vs. RIZIN 1, where he successfully out-maneuvered Roberto de Souza. This victory marked his second straight win after a triumphant decision over Spike Carlyle, which redeemed him following the loss of his featherweight title to Patricio Pitbull back in April 2022.
On the other hand, Outlaw's most recent Bellator appearance was in August when he outpointed Islam Mamedov in Bellator 298. He boasts a record of 4-2 within the Bellator environment, counting victories over well-known stalwarts Myles Jury and Adam Piccollotti. However, he has previously suffered defeats against former champions Michael Chandler and Tofiq Musayev. The stakes are high for Bellator 301, with two title fights headlining the event: Welterweight champion Yaroslav Amosov is set to defend his title against Jason Jackson, while bantamweight champion Sergio Pettis goes up against Patchy Mix, the bantam tourney winner, and interim champ.