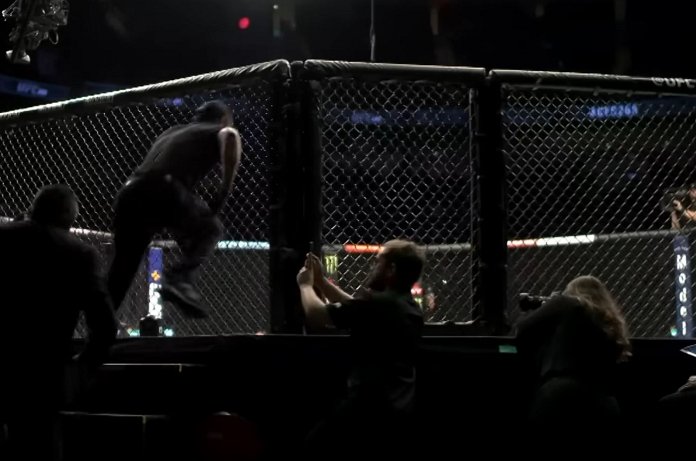 Charles Oliveira is determined to defeat Beneil Dariush at UFC 288 and secure another shot at the lightweight title against Islam Makhachev.
Charles Oliveira is on a mission for his next UFC chapter, and he vows that nothing and nobody will stop him from completing it. "Do Bronx" is scheduled to face Beneil Dariush at UFC 288, which takes place on May 6 in New Jersey, and believes he is one win away from another shot at the lightweight title against Islam Makhachev. Although he says he won't change anything from his last fight, Oliveira is altering his approach when it comes to predicting how he gets the job done in the cage.
"I've said [how I'll win] it before, I've been wrong before — and I won't be wrong again," Oliveira said. "I'll tell you the truth, being real here, I'll hunt in this fight. I'll walk forward the entire time. I don't care if it's a knockout, a submission, or a decision, I'll hunt in this fight." He continued, "I can't say I'll do a strategic fight, that I'll be waiting. No, that's not Charles fighting. Charles walks forward, he hunts the entire time. So if you want to watch a boring fight, don't come watch my fight. You'll see me get knocked down, dropped, and get back up. Like you said, [Dariush] has been knocked out before, he's been submitted. He has holes, just like I do. That's what matters the most, wanting to win no matter what."
Both Oliveira and Dariush have showcased versatile fighting styles over the course of their MMA careers, scoring victories by way of knockouts and submissions. Both have been on the other side, too, tapping or losing consciousness. And even though they are well-rounded martial artists today, "do Bronx" and "Benny" came from opposite fighting backgrounds before working with Chute Boxe disciples Diego Lima and Rafael Cordeiro. "We don't need to be hypocrites or fools," Oliveira said. "Everybody knows I came to Chute Boxe Diego Lima looking to learn the stand-up fight, because I'm a jiu-jitsu guy. 'Benny' has a gigantic history in the striking area, but we're talking about the same school. I keep walking forward, you know? I get beat but keep walking forward, I get knocked down and keep walking forward. Whoever has more heart and wants it more [will win]."
"I want it so bad. I want to become champion again, I want to win, I want to make history. I'm hungry to win. I'm like a lion hunting." Dariush hoped to face Oliveira earlier this year, however the Brazilian said "it has to be on my timing, not when they want it," and May worked out perfectly for him and the UFC. "He's not a fool, he knows what he has to do," Oliveira said. "And fighting against me, the No. 1 in the ranking, if he has the opportunity to defeat me, he'll definitely be the next title contender, so a month more makes no difference." The UFC had previously booked Oliveira and Dariush to face off in October 2020, however "do Bronx" pulled out citing personal reasons. Oliveira ultimately returned to fight Tony Ferguson and rocket toward the 155-pound title, but still won't reveal what caused his withdrawal. Either way, he agreed both him and Dariush are way better athletes today.