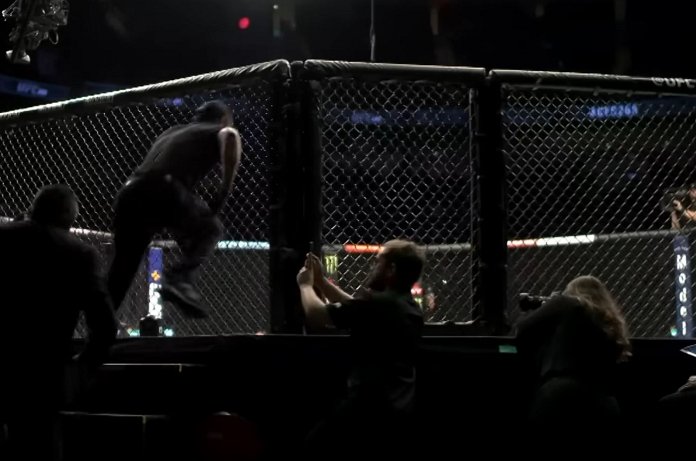 The UFC is working on a behind-the-scenes documentary and a comedy show centered around the MMA promotion in collaboration with Adam Sandler.
The UFC is planning a new behind-the-scenes documentary, as well as a comedy in development with Adam Sandler centered around working at the promotion. UFC president Dana White divulged the news during an appearance on The Pat McAfee Show on Wednesday. He discussed Conor McGregor's latest documentary, McGregor Forever, which had recently ranked among the top 10 most-watched programs on Netflix. While McGregor independently negotiated his documentary, White revealed that the UFC is working on a series of their own, expected to debut later this year.
"It's not easy to just whip out a documentary and do it," White explained. "But we're doing a deal right now with Roku where we're filming a documentary behind the scenes of the UFC, that will come out later this year. [It's about] the whole business. You guys will see all the behind the scenes." In addition to the documentary, White also shared information about collaborating with Sandler to develop a comedy based around the UFC. Although he didn't provide many specifics, it appears Sandler could be developing a scripted program, possibly a sitcom, but the exact nature of the project is still uncertain.
"We're working on that [documentary], we're also working on a show right now with Adam Sandler that's a comedy about working in the offices of the UFC," White said. Sandler's production company, Happy Madison, has produced numerous films and television series over the years, including many of his own projects as well as shows like The Goldbergs and Rules of Engagement. Happy Madison also helped produce the 2012 film Here Comes the Boom, starring Kevin James and focusing on the UFC, even licensing the promotion's name during production.
Sandler is represented by William Morris Endeavor, which coincidentally owns the UFC, making the collaboration a family affair. In addition to these projects, White has many other television ventures in progress beyond the UFC. He is also a part-owner of Thrill One Sports and Entertainment, responsible for properties like Rob Dyrdek's popular MTV clip series Ridiculousness and the extreme sports series Nitro Circus, which White hinted is due for a new reality show as well.