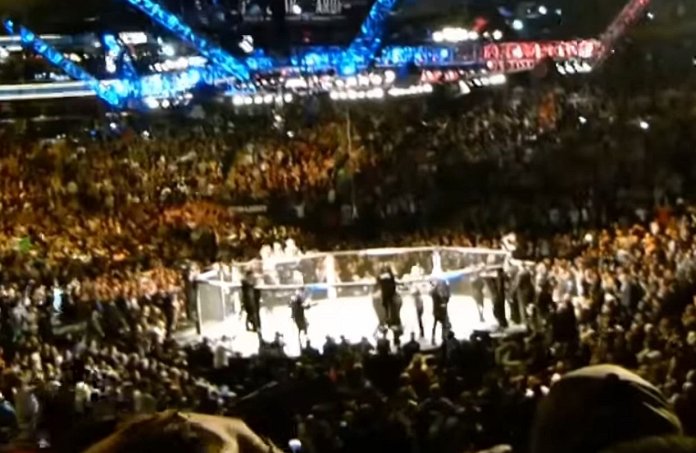 The UFC's next broadcast deal could be split across multiple networks, according to Endeavor president and chief content officer Mark Shapiro.
For the past 12 years, the UFC has been faithful to a single broadcast partner, whether it was with FOX or ESPN. However, the promotion's next deal could splinter across multiple networks, according to Endeavor president and chief content officer Mark Shapiro during the J.P. Morgan global technology, media, and communications conference. While Shapiro praised the current UFC relationship with ESPN and its massive seven-year deal for linear, digital, and pay-per-view broadcasts, he admitted that price will always serve as the biggest determining factor for any future negotiations in those rights deals.
"We have been very happy being with one platform [at ESPN], which is [owned by] the Walt Disney Company," Shapiro said. "They've been incredible to UFC and we've been incredible to them. When they need something, Dana White makes it happen in two seconds, and when we need something, they work with us across the globe, now that they obviously now have more of an international footprint given the FOX acquisition than any other partner we've ever been involved with. So it's a great story. But your goal is to maximize price, let's be clear about that. In any renegotiation that Nick Khan is doing in WWE, his goal is to maximize price. Our goal with UFC is to maximize price."
Endeavor is nearing the completion of a deal that would combine both the UFC and WWE into one publicly traded company, although that doesn't mean the two promotions will be tied together for any future broadcast rights deals. Live event programming has remained a huge draw for ratings as well as bulletproof to the changing trends in cable, satellite, and streaming services, and networks like ESPN or outlets such as Amazon Prime Video have been willing to pay a premium price for those packages. For example, the NBA has been enjoying high ratings during the 2023 playoffs, which will only increase the league's value during negotiations on a new broadcast deal. Right now, the NBA only has two major broadcast partners, but Shapiro addressed rumors that the number could expand to four under the new deal because the league understands that seeking the biggest deal possible is really what matters most.
"Of course, partner is important," Shapiro said. "Of course, platform is important. Of course, where you put your brand so it's seen by as many fans as possible is important. But price is first. If that means you're going to divide up into two partners like the NBA has now, or four like they reportedly might have in the future, you make it work. You figure it out." Shapiro pointed to the NFL as the prime example that splintering a broadcast deal across numerous networks is not only doable, but can lead to even more success over time. The NFL, which possesses the largest television broadcast deal by a wide margin, has partnerships with networks such as FOX and CBS as well as Monday Night Football on ESPN and Thursday Night Football now exclusively airing on Amazon Prime Video. Fans still flock to all those different channels to watch the NFL, and Shapiro expects that would be the same for the UFC or any other sport with a loyal and devoted audience. "The NFL is the role model for that," Shapiro said. "They haven't hurt whatsoever — FOX, CBS, NBC, ESPN. And I heard those cries when I was at ESPN, 'Oh, they can't go to NBC. Oh, they can't add a Thursday night [game]. Oh, they're diluting. Oh, there's too many partners, Oh, they can't promote each other. Oh, they hate each other. It's not one ecosystem.' Well, they made it work for one ecosystem and their viewership has never been stronger."