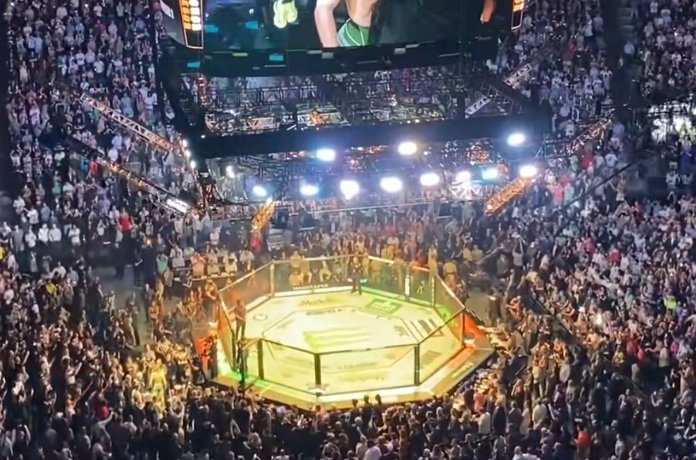 Khamzat Chimaev expresses frustration with his UFC peers and claims to be the biggest fish in the sea, ready for title shots in both the welterweight and middleweight divisions.
Khamzat Chimaev has yet to fight in 2023 but already sees himself as the biggest fish in the sea. With UFC welterweight champion Leon Edwards expected to defend his title against Colby Covington soon, and UFC middleweight champion Israel Adesanya awaiting his next opponent, Chimaev's rival Paulo Costa has announced a date with the recently debuted Ikram Aliskerov. This news leaves Chimaev with an obvious dance partner in mind.
Hoping to face former welterweight champion Kamaru Usman in Abu Dhabi on October 21, Chimaev has expressed frustration with the current state of UFC match-ups. In a YouTube video, Chimaev said, "There's no money fights anymore, it's only me. Because Leon Edwards doesn't give you that much money. If you fight with me, everyone knows it's the money fight." He also questioned why Covington has been given a chance to fight for the title, wondering if it's due to Covington being from the USA and him being from Sweden.
Chimaev has taken particular issue with the announcement of Costa vs. Aliskerov, considering a potential match-up between him and Costa has been discussed frequently. Voicing his desire to fight Costa, Chimaev remarked, "Paulo has spoken a lot of s*** about me. I want to smash him, I want to kill this guy, and do a lot of things." Despite being undefeated in 12 pro bouts, including a quick submission of Kevin Holland at UFC 279 this past September, Chimaev is still waiting for his moment in the spotlight.
Regardless of his recent inactivity, Chimaev is certain he will attain UFC gold and has expressed a willingness to fight any opponent. He declared, "I want to fight for the title, so for me, it doesn't matter which weight class. I can go [170], but I don't want to make weight for a nobody at [170]… I'm ready for Usman, I'm ready for Leon, I'm ready for Israel [Adesanya]. Doesn't matter. I'm ready for everybody." With Chimaev's confidence and impressive record, fans can only wait and see what the future holds for this promising fighter.