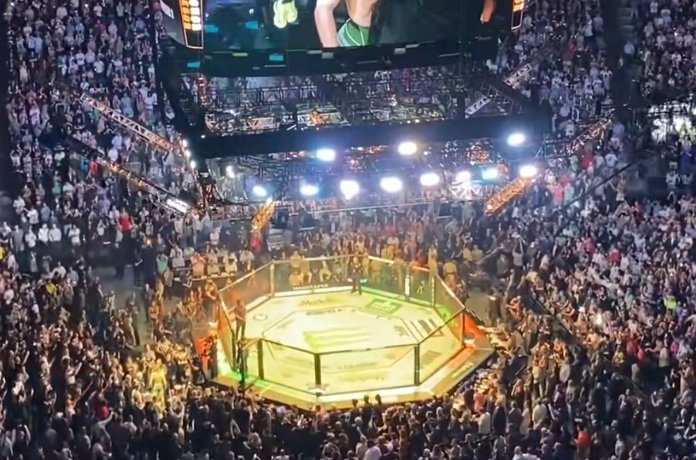 Leon Edwards wins by majority decision over Kamaru Usman after a point deduction.
In a highly anticipated welterweight championship trilogy bout, Leon Edwards put his title on the line for the first time against Kamaru Usman at the O2 Arena in London. Usman had defeated Edwards in their first meeting in 2015, but Edwards avenged the loss in their last bout in August 2021 with a dramatic head kick that rendered Usman unconscious. The two fighters did not touch gloves at the start of the match, and Usman came out pressuring Edwards from the beginning.
The first few rounds saw both fighters exchange punches, with Edwards successfully defending Usman's takedown attempts. Edwards targeted Usman's lead leg, while Usman landed a right hand and changed levels to get the fight to the ground. Referee Herb Dean warned Edwards about putting his fingers inside Usman's glove, and the two exchanged words at the end of the round. Usman continued to pressure Edwards, while Edwards landed a series of leg kicks and a knee.
In the later rounds, Usman secured a single-leg takedown, but Edwards scrambled to his feet, grabbing the fence and leading to a point deduction from referee Herb Dean. Despite this setback, Edwards continued to deliver leg kicks and clinched with Usman. Usman landed a stiff jab and clinched, throwing a combination that ended in an elbow. Edwards retaliated with a kick to the body and an uppercut. The two fighters exchanged leg kicks, with Usman attempting to get the fight to the ground and Edwards fighting him off.
In the end, the judges scored the fight for Edwards by a majority decision, with scores of 48-46, 48-46, and 47-47. Despite Edwards' victory, the fight was closely contested and both fighters delivered impressive performances. The trilogy bout lived up to the hype, providing an exciting and intense matchup between two of the best welterweight fighters in the world.