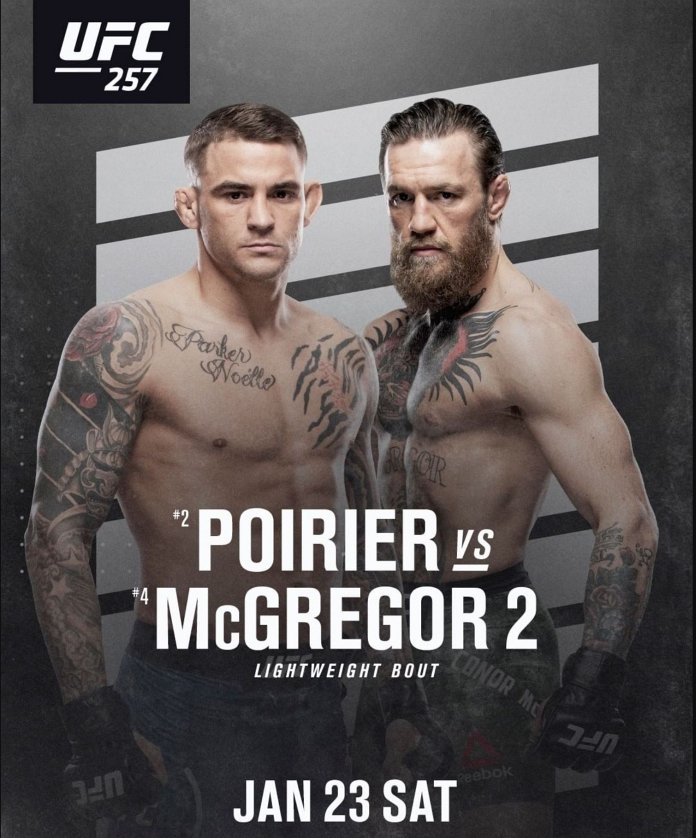 UFC 257 gave fight fans all they could ask for on Saturday night. The event was live from inside the Etihad Arena in Yas Island, Abu Dhabi, AE. Dustin Poirier defeated Conor McGregor by KO (Punches) Saturday, and in the co-main event, Michael Chandler defeated Dan Hooker in round 1 by TKO (Punches).
This was 548th event in Ultimate Fighting Championship history, including pay-per-views, UFC Fight Nights, and TUF finales. The pay-per-view card streamed on ESPN+ PPV following prelims on ESPN/ESPN+. In this post, we'll go into detail on UFC 257 payouts, fighter bonuses, and event facts, including the attendance, total gate and PPV buys.
UFC 257 Attendance, Gate, Viewership
There were 2,000 fans in attendance. The gate for the event came out to $0. The viewership data is still pending. We'll continue to update this post as soon as the information is available.
| | |
| --- | --- |
| Attendance | 2,000 |
| Gate | $0 |
| Buyrate | Not available |
| Total Fights | 11 |
UFC 257 Bonuses
UFC 257 had 11 bouts scheduled. no one was awarded the Fight of the Night bonus. The Performance of the Night bonuses went to Dustin Poirier, Michael Chandler, Makhmud Muradov and Marina Rodriguez. The fighters took home an extra $50,000.
There are four types of awards:
Fight of the Night is awarded to two fighters who star in the exciting fight of the night.
KO of the Night is awarded to the fighter who achieves the most spectacular Knockout.
Submission of the Night is granted to the protagonist of the most striking submission.
Performance of the Night is awarded the most impressive individual performance of the night.
UFC 257 Salaries
The total disclosed payroll for the event is PENDING. The figures below are base salaries reported to the commission and do not reflect entire compensation packages for the event. Here's the full list of fighter payouts from UFC 257:
PENDING… We will update this section as soon as the fighter salaries are officially released. In the meantime, you can view all the UFC 257 results.
The UFC 257 payouts don't include deductions for items such as insurance, licenses, and taxes. Additionally, these do not include pay-per-view cuts that some top-level fighters receive. They also do not include money paid by sponsors, Reebok pay, any other "locker room" or special discretionary bonuses the UFC often pays.
Did you know: The average UFC fighter made $138,000 in 2018, up from average earnings of $132,000 in 2017.
Event

UFC 257: Poirier vs. McGregor 2

Date

January 23, 2021

Venue

Etihad Arena

Location

Yas Island, Abu Dhabi, AE

Main Event

Poirier vs. McGregor 2

Total Fights

11

Attendance

2,000

Gate

$0

Buyrate

Not available
Check out all the upcoming UFC fights and don't miss the latest MMA news. You can also view the official UFC event page here.