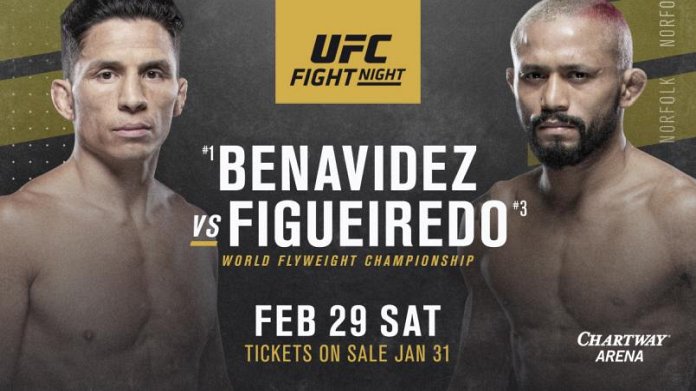 On Saturday, February 29, 2020, the Ultimate Fighting Championship will host its 511th event on ESPN+ from the Chartway Arena in Norfolk, VA. In the main event, Joseph Benavidez takes on Deiveson Figueiredo in a lightweight showdown. The main card also features Felicia Spencer versus Zarah Fairn in a 145 lb bout.
UFC recently held its early and official weigh-ins on Friday at the UFC host hotel for UFC Fight Night 169. The weigh-ins are done the day before the event. In order to fight, fighters have to meet the weight for their weight class, with a one-pound margin of error. If the fighter does not make weight, they could get penalized, lose some of their purse money or their fight being canceled altogether.
Cutting weight largely involves getting water out of your system by sweating. This is why fighters typically look more "ripped" during the weigh-in. Once the fighter makes weight, they are not weighed again before the fight. Fighters have until the fight on Saturday night to re-hydrate and put back the weight they cut, which can be up to 20-30 lbs in extreme cases.
The fighters hit the scales on Friday. You can watch the ceremonial weigh-ins below.
Benavidez vs. Figueiredo weigh-in video:
Here are the official UFC Fight Night 169 weigh-ins results:
UFC Fight Night 169 Weigh-in Results
Joseph Benavidez (124.5) vs. Deiveson Figueiredo (127.5)** – for vacant flyweight title
Zarah Fairn (146) vs. Felicia Spencer (145)
Magomed Ankalaev (204.5) vs. Ion Cutelaba (204.5)
Megan Anderson (145) vs. Norma Dumont (146)
Grant Dawson (149.5)* vs. Darrick Minner (145.5)
Steve Garcia (155.5) vs. Luis Pena (154.5)
Kyler Phillips (135.5) vs. Gabriel Silva (135.5)
Brendan Allen (185.5) vs. Tom Breese (185)
Serghei Spivac (234) vs. Marcin Tybura (246)
TJ Brown (145.5) vs. Jordan Griffin (145)
Spike Carlyle (145.5) vs. Aalon Cruz (145.5)
Sean Brady (170) vs. Ismail Naurdiev (170)
* Dawson missed featherweight limit by 3.5 pounds; fined 30 percent purse.
** Figueiredo missed flyweight title limit by 2.5 pounds; fined 30 percent of the purse and cannot win the title
UFC Fight Night 169's main card will air live on ESPN+ starting at 8:00 PM ET / 6:00 PM PT. The prelims will stream on ESPN+ starting at 5:00 PM ET / 3:00 PM PT. Here is how you can live stream UFC Fight Night 168. You can also view who won at UFC Fight Night 169.
Be sure to check out upcoming UFC events and don't miss the latest MMA news. You can view the official event page here.