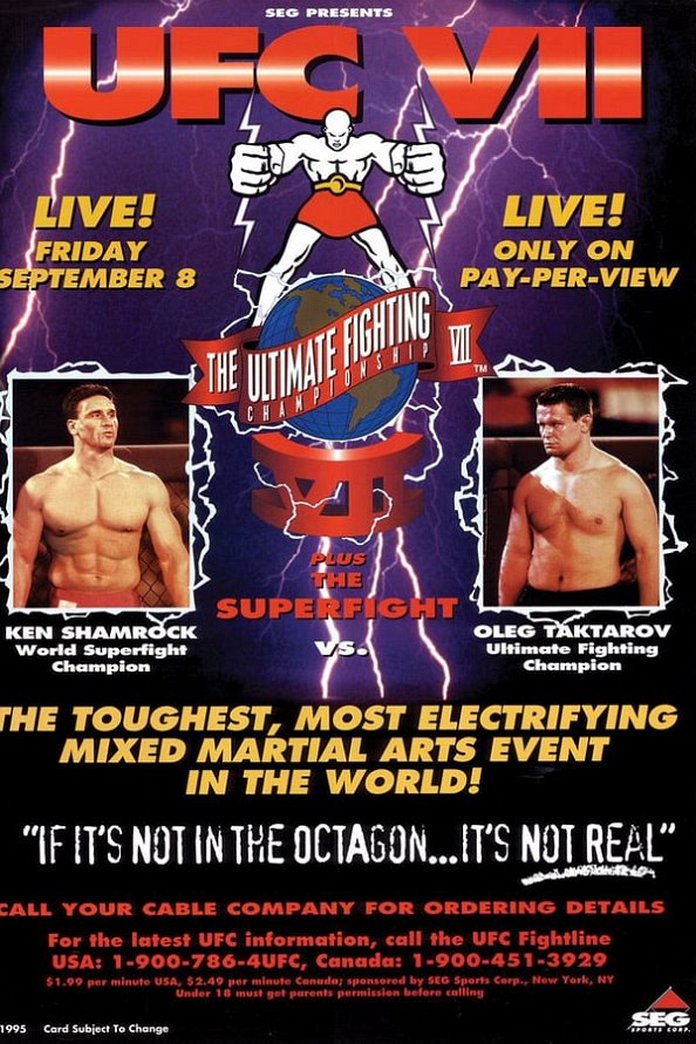 UFC 7: UFC 7 was held on Friday, September 8, 1995, at Memorial Auditorium in Buffalo, New York. This event was held 9,268 days days ago and was the 7th event in Ultimate Fighting Championship history, including pay-per-views, UFC Fight Nights, and The Ultimate Fighter season finales. There were 9,000 fans in attendance. The gate for the event came out to not available.
UFC 7 had 11 bouts scheduled. The event was headlined by a clash between Marco Ruas and Paul Varelans. In the co-main event, Ken Shamrock took on Oleg Taktarov. The night kicked off with Joel Sutton taking on Geza Kalman, followed by Francesco Maturi vs. Onassis Parungao. was awarded Fight of the Night bonus. The Performance of the Night bonuses went to , each fighter took home an extra $50,000.
View the UFC 7 fight card and bout order for 'UFC 7' below. Don't miss the complete UFC 7 results.
| | |
| --- | --- |
| Event | UFC 7: UFC 7 |
| Date | September 8, 1995 |
| Venue | Memorial Auditorium |
| Location | Buffalo, New York |
| Main Event | Marco Ruas vs. Paul Varelans |
| Total Fights | 11 |
| Buyrate | 190,000 |
| Attendance | 9,000 |
| Gate | not available |
UFC 7 Fight Card
The card aired on in the United States. Below is the UFC 7 fight card and 11-fight order for 'UFC 7'.
UFC 7 Main Event
Marco Ruas vs. Paul Varelans
UFC 7 Main Card & Prelims
Oleg Taktarov vs. Ken Shamrock
Remco Pardoel vs. Marco Ruas
Mark Hall vs. Paul Varelans
Marco Ruas vs. Larry Cureton
Ryan Parker vs. Remco Pardoel
Harold Howard vs. Mark Hall
Paul Varelans vs. Gerry Harris
Scott Bessac vs. David Hood
Onassis Parungao vs. Francesco Maturi
Geza Kalman vs. Joel Sutton
You can visit the official UFC 7 event page here. Check out upcoming UFC events and don't miss the latest MMA news.
This page is updated with the latest details about UFC 7, come back often for new updates. If you see a mistake, please help us fix it.