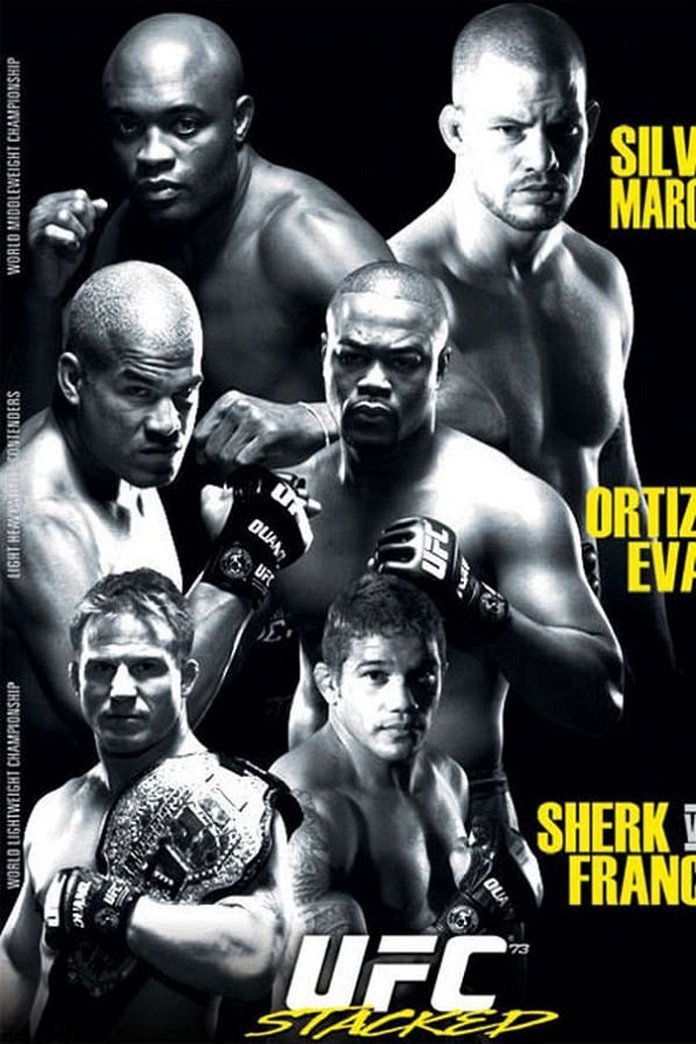 UFC 73: Stacked was held on Saturday, July 7, 2007, at ARCO Arena in Sacramento, California. This event was held 5,814 days days ago and was the 94th event in Ultimate Fighting Championship history, including pay-per-views, UFC Fight Nights, and The Ultimate Fighter season finales. There were 13,183 fans in attendance. The gate for the event came out to $1,551,920.
UFC 73 had 9 bouts scheduled. The event was headlined by a clash between Kenny Florian and Alvin Robinson. In the co-main event, Anderson Silva took on Nate Marquardt. The night kicked off with Frankie Edgar taking on Mark Bocek, followed by Jason Gilliam vs. Chris Lytle. Diego Saraiva vs. Jorge Gurgel was awarded Fight of the Night bonus. The Performance of the Night bonuses went to Anderson Silva and Chris Lytle, each fighter took home an extra $50,000.
View the UFC 73 fight card and bout order for 'Stacked' below. Don't miss the complete UFC 73 results.
| | |
| --- | --- |
| Event | UFC 73: Stacked |
| Date | July 7, 2007 |
| Venue | ARCO Arena |
| Location | Sacramento, California |
| Main Event | Kenny Florian vs. Alvin Robinson |
| Total Fights | 9 |
| Buyrate | 425,000 |
| Attendance | 13,183 |
| Gate | $1,551,920 |
UFC 73 Fight Card
The card aired on in the United States. Below is the UFC 73 fight card and 9-fight order for 'Stacked'.
UFC 73 Main Event
Kenny Florian vs. Alvin Robinson
UFC 73 Main Card & Prelims
Nate Marquardt vs. Anderson Silva
Rashad Evans vs. Tito Ortiz
Hermes Franca vs. Sean Sherk
Heath Herring vs. Antonio Rodrigo Nogueira
Stephan Bonnar vs. Mike Nickels
Jorge Gurgel vs. Diego Saraiva
Chris Lytle vs. Jason Gilliam
Mark Bocek vs. Frankie Edgar
You can visit the official UFC 73 event page here. Check out upcoming UFC events and don't miss the latest MMA news.
This page is updated with the latest details about UFC 73, come back often for new updates. If you see a mistake, please help us fix it.