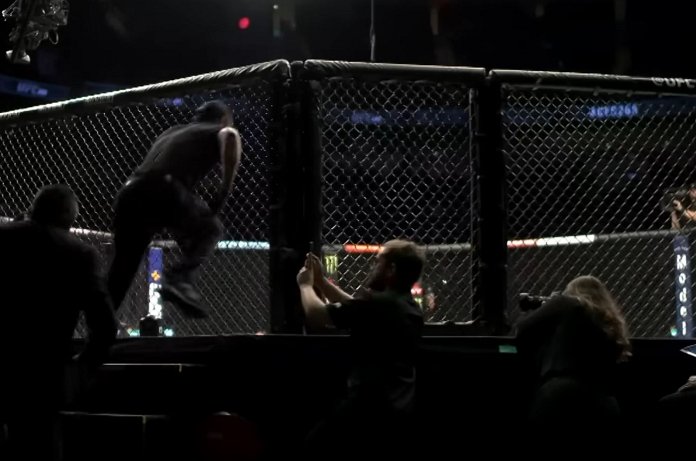 Boxer Chris Curtis was forced to withdraw from his scheduled fight after suffering an injury while training, which he clarified was not the fault of his spar mate, Ian Machado Garry, but a freak accident. Curtis has since been cleared to train again and plans to return to fighting soon, potentially even shifting weight classes, either to welterweight or making adjustments at middleweight.
Chris Curtis, also known as "The Action Man", was set to fight Anthony Hernandez at Noche UFC but had to withdraw due to an injury he incurred while training. Fans made quick connections between Curtis' withdrawal and a video showing him getting injured during a sparring session with Ian Machado Garry. This led to a flurry of criticism against the undefeated Machado Garry.
However, Curtis, who is currently recuperating, clarified on "The MMA Hour" that Machado Garry shouldn't be blamed for the unfortunate occurrence. He stated, "Just clearing something up, because I think Ian Garry got a lot of s*** for it. Ian wasn't the main one responsible. The day before that I had wrestled, and I took somebody down, I took a knee to the chest when I took him down, just landed weird. It wasn't Ian's fault. I probably shouldn't have sparred, but I wanted to help out. It was not Ian's fault, guys. The guy's good at sparring, good control, it was just a freak accident."
This incident marks another setback for Curtis who had seen a slide in his middleweight rankings after a challenging batch of fights. A twenty-year professional in the field, Curtis managed only one win in his last four attempts, with his latest fight against Nassourdine Imavov resulting in a no-contest due to an unintended clash of heads. He indicated he's been cleared to train again but must wait longer to return to competitive fighting. Sharing his plans, he said, "I'm better. I've been sitting around on my ass for six weeks just kind of resting, it's the first time in a few years I've just kind of had time off, so I feel good. I'm going to start practice again today."
Looking ahead, when Curtis returns to the sport, it might be in a more familiar weight class. Though he has been competing strictly at 185 pounds since joining the UFC in 2021, he used to be more popular at welterweight and could do so again. He disclosed potential plans, saying, "We've been looking at maybe 170 next year, going back to welterweight. Maybe go back to 170, maybe make some changes at '85, just not sure yet. I may fight December, maybe, but we've got a kid on the way [in October], so the schedule's kind of tricky right now." On his choice of next opponent, he hinted at Bryan Barberena, who appears open to the idea.