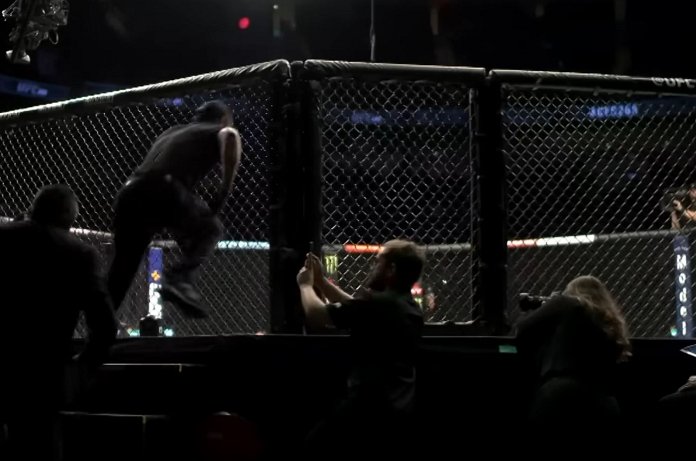 Former Cage Warriors bantamweight champion, Nathaniel Wood, is pleased with his decision to move up to the featherweight division, having won all three of his fights since the shift, with no plans to return to the previous weight class unless a significantly appealing opportunity arrives.
Nathaniel Wood, a former Cage Warriors Bantamweight Champion, has expressed no regrets for making the strategic decision to move up to the Featherweight category. The decision proved to be fruitful following the results of a challenging 2020, during which Wood participated in three UFC competitions and only claimed victory in one. Since shifting weight classes, the 29-year-old English fighter has maintained an unblemished record, with three wins in three fights, underlining his latest triumph with an intense duel against Andre Fili at UFC London.
Wood recently spoke about his weight class shift during 'The MMA Hour', emphasizing his satisfaction with the results. Wood noted that his three wins at Featherweight, two of which he described as dominant, show that he hasn't faced any significant struggle related to weight or size. He also expressed relief at having a balanced lifestyle and a proper training camp, free from calorie counting and drastic weight loss that marked his previous campaigns at the Bantamweight category. He voiced out his reluctance to return to the 135-pound division unless it's for a fight that justifies the ordeal with a high stake reward.
The Englishman's latest triumph offers an insight into the success of his transition at Featherweight, albeit not against a title contender, but a resilient and experienced fighter, Andre Fili. Fili, esteemed for his tenacity, has registered ten victories in the Octagon since 2013, and battled against formidable fighters like Max Holloway, Yair Rodriguez, and Calvin Kattar. Wood hoped his victory would earn him a spot in the UFC's official Featherweight rankings, a wish that's yet to materialize post London ranking updates.
Regardless of the ranking situation, Nathaniel Wood remains a strong contender in the Featherweight division. He is eyeing a return in late 2023, ideally at UFC 294 in Abu Dhabi or in Brazil at Sao Paulo for the Nov. 4 event. His aspirations also include securing a match with a big-name challenger, who could potentially boost his journey to the contenders list. Englishman Lerone Murphy, who also marked impressive victory at the London event, intrigues Wood's interested despite their previously scheduled match getting canceled due to Wood's injury.